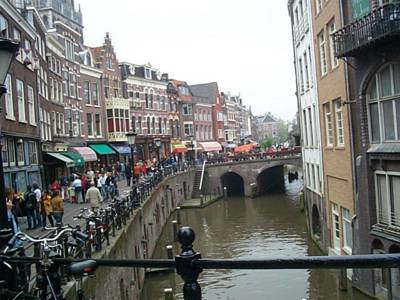 Vismarkt (Fish Market)
Check the small bridge in the picture, that is the centuries old fish market of Utrecht where people back in the olden times buy and sell fresh fish. It is presently an area full of charming cafe terraces enjoyed by a lot of Dutchies, especially during summer when they bask under the sun.
And see that green dakkapel (extended roof) also? On the left side of the street? That's a specialty kitchen shop selling all sorts of kitchen wares and gadgets. I love visiting that place when I am in the center.
Ah well....
Why is it that it is always different when you are looking at foto's? Pictures give us that awe-some feeling, or I guess nostalgic tendencies, compared to actually walking through the streets and canal bridges of where we live, totally unaware of its wonderment, simply because we have grown to become too familiar with it.
I sometimes think that on elected moments, it is healthy to be detached from our surroundings. But... in as much as we love the comforting touch of consciousness, with distance and detachment, we are able to enjoy and float in the euphoric magical spell of re-living antiquity and how amazing this place was and still is.
Yes, even for just a fleeting moment of looking into a picture.