The gothic DOM tower is celebrating its 750th birthday this year!
The history of the city of Utrecht actually began where the church stands today. The Romans were the early settlers and they have built a fortress in this area. Remains of this fort can still be found today under the Domsquare.
Also, the first Saint Martin's church was built on this location around the 7th century.
From Roman to Gothic

The predecessor of the current gothic St. Martin's church was built around the start of the 11th century. In 1253, a huge fire swept through the city that badly damaged the Roman cathedral. Some of its remnants can be seen in the garden beside the Domtower.

After the fire, the rebuilding began. A new architectural style was introduced, GOTHIC. Construction of the new St. Martin's cathedral was christened by Bishop Hendrik van Vianden. He laid the first stone and bit by bit, the originally Roman cathedral was replaced into the gothic cathedral of today, well without the nave that is.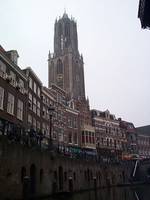 History of the DOM Tower in Utrecht
1254 - Bishop Hendrik van Vianden laid the first stone of the Gothic Cathedral.
1320 - Construction of the DOM tower began.
1500 - DOM Tower and church were connected.
1520 - Construction of the cathedral ended.
1 August 1674 - Utrecht was ravaged by a tornado. The cathedral nave collapsed.
1826 - The rubble was finally cleared away, the current Domsquare was created.
1901 to 1931 - The reception building in front of the cathedral tower was built.
2004 - The nave rises again!